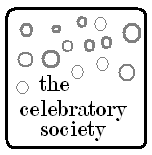 Mel, in her infinite wisdom, and her ability to always seem to know exactly what I need, came up with a new idea...
Think of this as the most interesting delurking project you'll ever participate in. After giving back to others at the Celebratory Society, I have decided to participate in it myself. You can understand the project in full by clicking here, but in brief, the Celebratory Society is an online festschrift for a blogger--a way for you to tell me what my blog or actions mean to you.
It feels weird to be asking for compliments but after the last year month
week day I have had I could really use it.
But this isn't just about me--this is about you too. And I would love it if you returned to your own blog, started your own Celebratory Society post, added it to the main project list, and gave me the opportunity to tell you about...you.