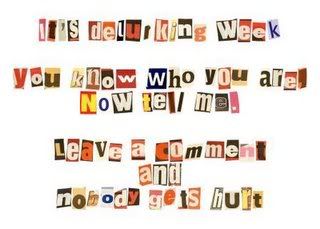 Ok, OK I know this is a cheap favorite things but hey what can I say it's all I got right now. So one of my Favorite things is comments. I just love love love comments. It's like my crack and if it is then I am an addict! (hmmm I wonder if this qualifies as crack, does that mean I will get pregnant soon. Oh let's hope...BRING ON THE CRACK...lets see what kind of hits that gets me from Mr. Google). Any who, all you lurkers out there and I know you are out there...I see you on my stat counters... It is Delurking week so come on let me know you are there leave me a comment just to say Hi! I will come over to your blog and say Hi. You know I show you mine now you show me yours. I promise I don't bite...well maybe sometimes but that is whole other story for another day. Even if you don't have a blog I would love to hear from you. Come on I'm and addict and I need my fix!
Update from last post: Sis is doing ok. Went to doc today and they said to try physical therapy for 3 weeks (which I am pretty sure must be on ever page of the Dr handbook PSST: if patient comes in with ANYTHING suggest physical therapy...big commissions wink wink don't tell anyone) I swear every time I go for any pain that is what they suggest but in case you didn't know that costs some money. how about you show me the exercises and I will do them. I know it does work but I am just saying I don't have the time nor the money. Oh yea I forgot not talking about me...At least this is all work mens comp for Sis but still it does take time. But I guess if you can avoid surgery that would be a good thing.
BIL is still not feeling that great. They filled his tooth today so hopefully he is feeling better tomorrow. I am going over there in the morning to help out for a little while. Please keep them in your thoughts. Thank you all for you thoughts and prayers it is appreciated!
Thank you for leaving me comments. I just love all of you. You are the greatest!